AFTER HOURS SERVICE FROM ADVANCE AUTO CENTRE
There is nothing worse than being stuck on the side of the road after all other service shops are closed. What do you do? Having to leave your vehicle unattended on the side of the road can be worrisome as vandals and thieves can ruin or steal your car or truck. If you leave your vehicle unattended too long you could also find that city could simply tow you away at your expense which just compounds your already difficult situation.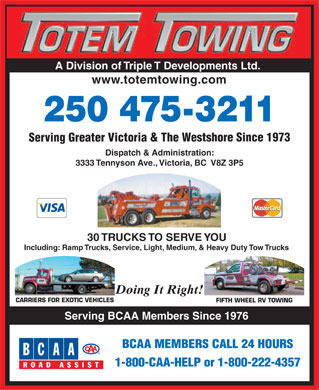 Advance Auto Centre has the solution for you! Do not let a road side break down cause you any more stress, Advance Auto Centre is there to make your repair as simple and easy as possible. Call Totem Towing after hours and have your vehicle towed to our secure facility over night so you do not have to worry about the security of your car or truck. With the vehicle towed to our service centre, all you need to do is call us so we can immediately start the repairs to get you back on the road again.
Why Totem Towing?
Totem Towing is a trusted business partner and a BCAA accredited company that offers the highest service to assist you through a difficult time.
Totem Towing is on of Victoria's largest and most respected towing companies with forty-six full-time and part-time staff, with a fleet of 28 trucks and trailers. With a large fleet of vehicles, Totem Towing services all Capital Regional District communities including the West Shore, and all trucks will go where they are needed to provide the best customer service possible.
Call Totem Towing at 250-475-3211 and request that they tow your vehicle to our secure facility.