WELCOME TO ADVANCE AUTO CENTRE OF VICTORIA BC
Advance Auto Centre is a family owned and operated mechanical repair shop located right here in Victoria, BC on 750 Discovery St across from the Save-On-Foods Memorial Centre. With deep community ties we know how important a safe vehicle means to you and your loved ones so we only use quality parts and maintain the highest standards while performing repairs or maintenance. We have been providing our clients with friendly, high quality and professional service since 1985. Our clean and up to date facility islocated between Blanshard and Douglas Street in Downtown Victoria.We strive to go the extra mile by delivering value added service to our clients; we offer a warranty on all our repairs that is well above the industry standards at a fair and reasonable price.
Advance Auto understands the needs of today's client, whether they have one car or a fleet of trucks, our customers need their vehicle fixed in a prompt and efficient manner. With one of the largest service centres,highly trained staff and an 8 bay shop we can turn cars and trucks around in a very efficient manner. Therefore as an Advance Auto Centre customer you will receive prompt, accurate technical advice and superior customer service from our trained team of specialists.
Our shop is on the leading edge of technology and our staff has a mandate for ongoing education in this ever changing automotive field.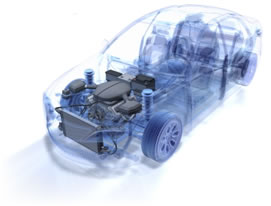 Maintenance You Can Trust
How can you avoid your vehicle breaking down in the middle of rush hour traffic, or out in the middle of no where?
The number one cause of vehicle failure is lack of maintenance. Most people feel that putting gas and the occasional top up of wind shield washer fluid is enough but nothing can be further from the truth. In order for you car or truck to maintain its excellent running conditions and extend your vehicles life, you need to do regular maintenance.
It is important to get your vehicle in to us for service as soon as you see or feel something wrong with your vehicle to prevent further more expensive repairs. If your check engine light comes on, do not continue to drive for days before scheduling your appointment as you do not want to have your vehicle break down in some remote area, or before you need to pick up your children from school.
Some Of Our Service Options
Tune Ups - Including Spark Plugs, Air Filters and Battery checks
Oil Service - Including changing to new high end synthetic oils, replacing oil filters and so forth
Lubrication - Greesing the important moving parts in your vehicle will extend the parts life span
Brake Service - Replacing worn brake pads, squeaking calipers, or warped rotars
Tranmission Service - Changing transmission fluids and filters
Tires - Changing tires when needed, keeping air pressure at optimum levels and rotating to extend life against tire wear.
We know that cars break down and we understand how important it is for you to not only get your vehicle back in a timely fashion but repaired properly the first time!